Our "Alcoholism Protocol" is science based, simple,
very powerful, and it works.

✓ You will receive world class hypnosis, so that you can gain control over your drinking habit.
✓ Your brain chemistry will be restored to prevent cravings.
✓ Your stress level will be minimized.
✓ No more drinking under stress.
✓ You will be in control of your life.
✓ Customized sessions to fit each individual need.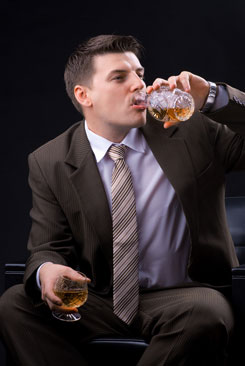 At Hypnosis Leader, we employ individualized protocol to assist with any type of drinking problem. We are very serious about protecting our clients' privacy. Each and every individual is treated with respect and individual attention.
According to Dr. Gluck, there are four types of drinkers:
✓ contact alcoholics
✓ linear alcoholics
✓ problem drinkers
✓ social drinkers
Contact alcoholic: A person who has both a genetic and emotional predisposition to alcohol overuse. Our treatment involves a combination of hypnosis and coaching for a successful outcome.
Linear alcoholic: A person who usually can have one to two drinks without any problem. However, if they drink more, they reach a point of no return, where they can't stop at all. The treatment plan usually involves hypnosis and coaching.
Problem drinker: A person who experiences periods of heavy drinking. Our hypnosis and coaching can help instruct these individuals on how to use alcohol socially without negative side effects.
Social drinker: A person who uses alcohol in moderation at social settings.
If you want freedom from your alcohol issues, while making vast improvements to your lifestyle, we recommend that you contact us today for a free ten-minute consultation.
Disclaimer: Results may vary from person to person.
---
Please read below what others said about our alcoholism program. Contact us today for any alcohol issues.
Hello…I am a man of 58 years old…at the age of 55 I had never had alcohol in my life…after a traumatic time in my life…I turn to alcohol to medicate myself…within 3 years I was a full blown alcoholic…drinking a gallon a week of tequila…after many attempts on my own to stop…I realized I needed professional help…as I am the bread winner of the family going off to rehab was out of the question…and AA meetings wern't for me…so after doing some research…I found Dr Anam…after speaking with him…he made up a program designed just 4 me….it was perfect for me…we did sessions via Skype in privacy of my home…his rates are affordable and he is very caring…professional…and I trusted him…after my sessions were over…I am now sober and back in control of my life….my wife, daughter, and I am so grateful to Dr Anam for giving me my life back…give him a try…u wont regret it…
Dave – California
Disclaimer: Results may vary from person to person.
---
To be in the entertainment industry is not easy. A lot of time just to hide my insecurity I started to drink. In the beginning it was ok. However, after couple of years everything started to be out of control. I could not perform without few drinks. Then my performance started to suffer.
I joined a program. After couple of months on and off drinking, I realized that I have to do
something.
A friend recommended Dr.Anam for hypnosis. I was a bit skeptical. Nevertheless, decided
to give it a try. After my first meeting with Dr. Anam, I was very impressed about his professionalism and knowledge. Started to work with him. I am glad that I did.
Now I am totally alcohol free. I am in control of my life again.
Mark H, Brooklyn – N.Y.
Disclaimer: Results may vary from person to person.
---
After my last break up I was very depressed and lonely. After my work, on my way home I started to bring a bottle of wine and started to drink the whole bottle. This made me feel more depressed. This affected my health and work schedule. I started to go to work late.
After my boss gave me the final warning that I might be terminated due to lateness, I realized something needs to be done.
I tried to stop on my own. But I felt very agitated. Thought of AA for a while, but realized that it is not for me.
Wanted to try hypnosis. After some Google search and reviewing the testimonials, I connected with Dr. Anam.
I started to to work with him. Soon, I was able to stop bringing a bottle of wine home.
Now I do not drink alone at all.
Just one or two drinks socially. Now, I am in control of my life. Dr. Anam is a very experienced professional and very compassionate. I am glad that I was able to connect with him.
Betty L – Connecticut.
Disclaimer: Results may vary from person to person.
---
I had a bit of a genetic disposition with alcohol and abuse. Both my parents were alcoholics.
My father would physically and verbally abuse me and my mom. I started to manifest similar problem.
When I was drunk I became very abusive. My girlfriend threatened me that she will break up with me. I felt very depressed and fearful. Joined a detox program. I had some success, but continue to relapse with binge drinking.
I know I have to do something. I know time was running out.
Started my research in Google. I came across an interview given by Dr. Anam on addiction. Called him and received some more information. Still very skeptic. Then I took advantage of his free screening session.
After the session I was convinced that it is worth a try. I am glad that I did.
Under hypnosis he regressed to my early childhood and was able to help me to purge those repressed anger from my subconscious mind. Now I am free from drinking. I feel much more centered and in harmony with myself. I would say this was a life changing experience for me.
Jonathan B, Manhattan – N.Y.
Disclaimer: Results may vary from person to person.
---
Fill up this form or call 1-800-524-6185 for a free consultation
Disclaimer: Results may vary from person to person.